PRESSURE REDUCING MODEL 129FC
Pressure Reducing Valve,An automatic, pilot controlled, pressure reducing valve, actuated by the pipeline pressure. The valve regulates to a steady, preset downstream pressure, regardless of upstream pressure or flow rate fluctuations. In case of excessive downstream pressure, the valve closes drip tight.
FEATURES & BENEFITS
Maintains constant discharge pressure regardless of upstream pressure or flow rate fluctuations
Easily cleaned, repaired & adjusted without removal the line
Easily adjusted for discharge pressures ranging 50-165psi
Applicable for water, seawater & foam
Out of box fully assembled & tested valves
Factory trimmed for vertical & horizontal installations without modification
Extensive valve & trim materials selection and corrosion protection coating
CERTIFICATION & COMPLIANCE

• ANSI FCI 70-2 Class VI seat leakage class
• UL listed under VLMT category
TYPICAL APPLICATIONS
Pump & Water Tanks
Fire Suppression Systems
Petrochemical, Oil & Gas Installations
Tunnels
Power Generation,
Transformer & Transmission Plants
Onshore / Offshore
Mining
OPERATION
The normally open, spring loaded pilot, sensing downstream pressure, responds to changes in pressure and causes the main valve to do the same. The net result is a constant modulating action of the pilot and main valve to hold the downstream pressure constant.
The Model 129FC consists of the following components, arranged as shown on the schematic diagram:
[1] Model 65 Basic Control Valve, a hydraulically operated, diaphragm actuated, globe or angle valve which closes with an elastomer-on-metal seal.
[2] Model 1390 Pilot, a 3-way, normally-open pilot valve which senses downstream pressure under its diaphragm and balances it against an adjustable spring load. An increase in downstream pressure tends to make the pilot close.
[3] Model 159 Y-Strainer, protects the pilot system solid contaminants in the line fluid.
[4] Model 155 Visual Indicator Assembly, (optional) provides indication of the valve position at a glance.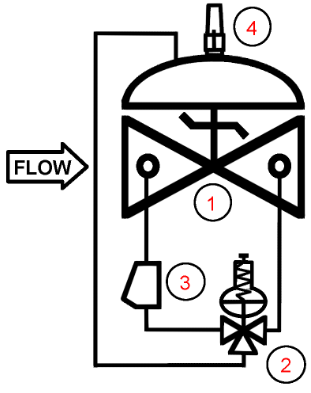 TYPICAL MATERIALS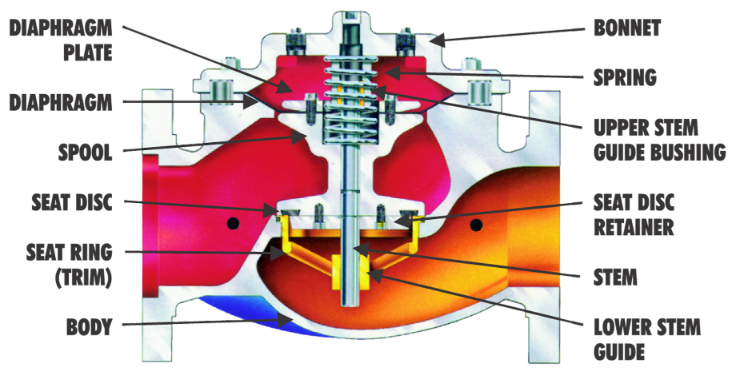 Frequently asked questions