HD Fire Foam Tank



- Foam pressure tanks of the Foam system have 2 types, horizontal and vertical. 

- The carbon steel tanks are designed and manufactured according to ASME standards for unburnt pressure vessels. 

- The maximum working pressure is 12 Bar ( 175 PSI ) . 

- The upright foam tank assembly is supported by legs welded to the tank that provides for mooring. 

- The horizontal tanks are supported by two saddles welded to the tanks and anchored. 

- The system is provided with pressure vessel, tank, and air release valve for water and foam, 

proportional control and discharge valve. Ladder and pressure gauge are available as options upon request.
Video Bồn Foam HD Fire Ấn Độ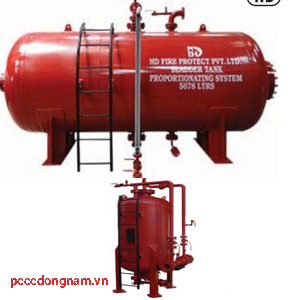 Bảng thông số kỹ thuật
| | |
| --- | --- |
| TANK MOUNTING | Vertical or Horizontal |
| TYPE |   |
|   |   |
| CONCENTRATE | For Vertical Tank 200 liters |
| STORAGE CAPACITY | to7500 liters (53 TO 2000 |
|   | Gallon (US)) |
|   | For Horizontal Tank 200 liters |
|   | to 15000 liters (53 to 4000 |
|   | Gallon (US)) |
|   |   |
| MAXIMUM WORKING | 12 Bar (175PSI) Standard Supply |
| PRESSURE | Higher pressure rating can |
|   | be given on request |
|   |   |
| FACTORY HYDRO | As per ASME code |
| TEST PRESSURE |   |
|   |   |
| VESSEL | Carbon Steel as per ASME |
| CONSTRUCTION | Code Section VIII Div 1, for |
|   | unfired pressure vessels |
|   |   |
| CE Mark | Optional |
|   |   |
| ASME "U" STAMP | Optional |
|   |   |
| BLADDER | Buna-N |
|   |   |
| CENTRE TUBE | Perforated PVC |
|   |   |
| EXTERNAL PIPING | Water side: Carbon Steel |
|   | seamless pipe sch 40 |
|   | Foam concentrate side: |
|   | Stainless Steel sch 40 |
|   |   |
| RATIO | Wafer type with Stainless |
| CONTROLLER | Steel 304/CF8 standard |
|   | material |
|   | Optional: Stainless Steel |
|   | 316/CF8M or Bronze |
|   |   |
| VENT AND DRAIN | Ball valve |
|   |   |
| APPROVALS | UL-Listed |
|   |   |
| OPTIONAL SUPPLY | Refer to page 3 |
|   |   |
| FINISH | Red RAL 3000 |
|   |   |
| ORDERING | Specify: |
| INFORMATION | 1) Tank type, vertical or |
|   | horizontal |
|   | 2) Storage capacity |
|   | 3) Model number, size of ratio |
|   | controller with flow |
|   | and pressure |
|   | 4) Type of foam concentrate |
|   | to be used and |
|   | percentage of induction |
|   | required |
|   | 5) Optional items |
|   |   |
Frequently asked questions