Fire Pump High Pressure Relief Valve 108-2HP
Fire Pump High Pressure Relief Valve, This valve automatically relieves excess fire pump discharge pressure to prevent the pressure exceeding the rating of the fire system components. It is specifically designed for systems where the relief set point must be higher than the pressures allowed for UL listed / FM approved valves.
FEATURES & BENEFITS
Limits maximum pump discharge pressure
Opens quickly; maintains pressure within close limits
Adjustable 200psi – 740psi (13.7 bar – 51.0 bar)
Pilot operated main valve
Simple field adjustable pressure setting with no special tools or system downtime
Factory tested & preset to requirements
Sizes 3" (DN80) – 8" (DN200), globe & angle pattern (108-2HPA)
ANSI Flanged Class #300 & #300 inlet x #150 outlet
Wide range of materials available
Applicable for water & seawater
CERTIFICATION & COMPLIANCE

• ANSI FCI 70-2 Class VI seat leakage class
• Fire tested to EN ISO 19921
• ABS type approva
TYPICAL APPLICATIONS
Pumps & Water Tanks
Fire Suppression Systems
Petrochemical, Oil & Gas Installations
Tunnels
Power Generation, Transformer & Transmission Plants
Onshore / Offshore
Mining
OPERATION
The normally closed, spring loaded pilot, sensing pump discharge pressure, opens when pressure exceeds the spring setting, allowing the main valve to open. As the pump pressure increases, the pilot controls the main valve to open further. Pressure is maintained at the controlled set point over a wide range of flows regardless of back pressure in the downstream piping. The valve closes gradually as pressures decrease below the set point. The relief pressure can easily be set and modified by use of the adjustment bolt on the pressure relief pilot's cover.
The Model 108-2HP consists of the following components, arranged as shown on the schematic diagram:
[1] Model 65 Basic Control Valve, a hydraulically operated, diaphragm actuated, globe or angle valve (angle pattern shown) which closes with an elastomer-on-metal seal.
[2] Model 2400 Pressure Relief Pilot, a 2-way, normally closed pilot valve which senses upstream pressure under its diaphragm and balances it against an adjustable spring load. An increase in upstream pressure tends to make the pilot open.
[3] Model 126 Ejector, a "tee" fitting with a fixed orifice in its inlet port that provides the proper pressure to the diaphragm chamber of the main valve.
[4] Model 141-1 Check Valve, prevents the valve opening under a vacuum condition that may be encountered with a vertical turbine pump.
[5] Model 159 Y-Strainer, protects the pilot system solid contaminants in the line fluid.
[6] Pressure Gauge, optional.
[7] Model 155 Visual Indicator, (optional) provides indication of the valve's position at a glance.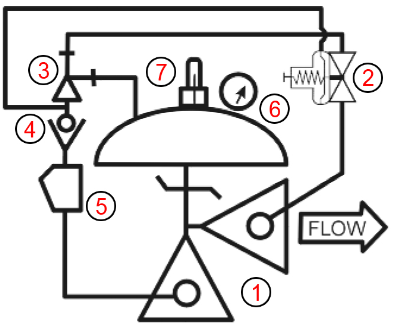 TYPICAL MATERIALS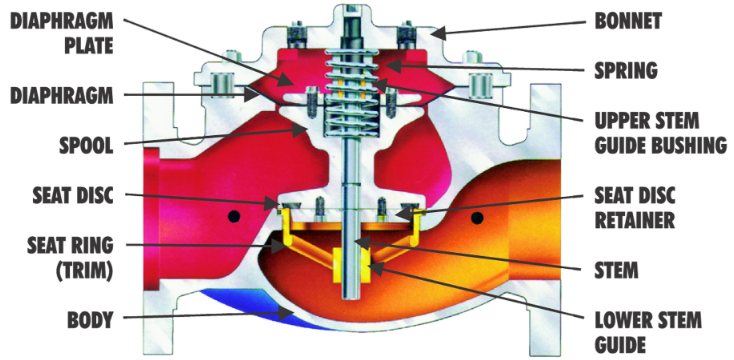 Frequently asked questions